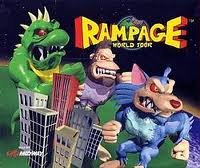 Rampage world tour is the 3rd game in the Rampage games, see more at the Rampedia.
Cool stuff
Edit
Going around the world
Riding on planes while going to another countrey
Jump on schools like a trampoline
3 player mode
Funney stuff
Edit
Eat people when there on the toilet
Get electric shocked by lights
Vomit when you eat something gross
Ad blocker interference detected!
Wikia is a free-to-use site that makes money from advertising. We have a modified experience for viewers using ad blockers

Wikia is not accessible if you've made further modifications. Remove the custom ad blocker rule(s) and the page will load as expected.